Power Up Cycling's Beginner's Spring Fling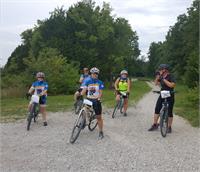 Are you new to cycling or thinking about taking it up in 2021?  Wondering where to ride?  Looking for potential riding partners?
Join Power Up coaches Amy Strahan and Wendy Davis for a beginner cyclist's clinic and get your questions answered.  Amy and Wendy will discuss the What, Where, and How all beginner cyclists should know, and lead a 1-hour beginner's ride on the Monarch levee following the talk.  Topics to be covered include: bike selection, important cycling accessories, helmet selection and fitting, where to ride, bicycle safety, proper use of gears and basic bicycle maintenance.
Participation in the beginner's ride is optional.  If you wish to participate bring your bike and helmet.
When:  Saturday, April 10, 2021, 8:00am
Where:  Big Shark – West / Power Up Cycling
Participation is FREE but limited to the first 20 cyclist to sign up, so don't wait.  Sign up today!
Questions?  call us at 636-875-4334 or email us at stltraining@powerupcycling.net